Compact Beamlight 1 Bi-Color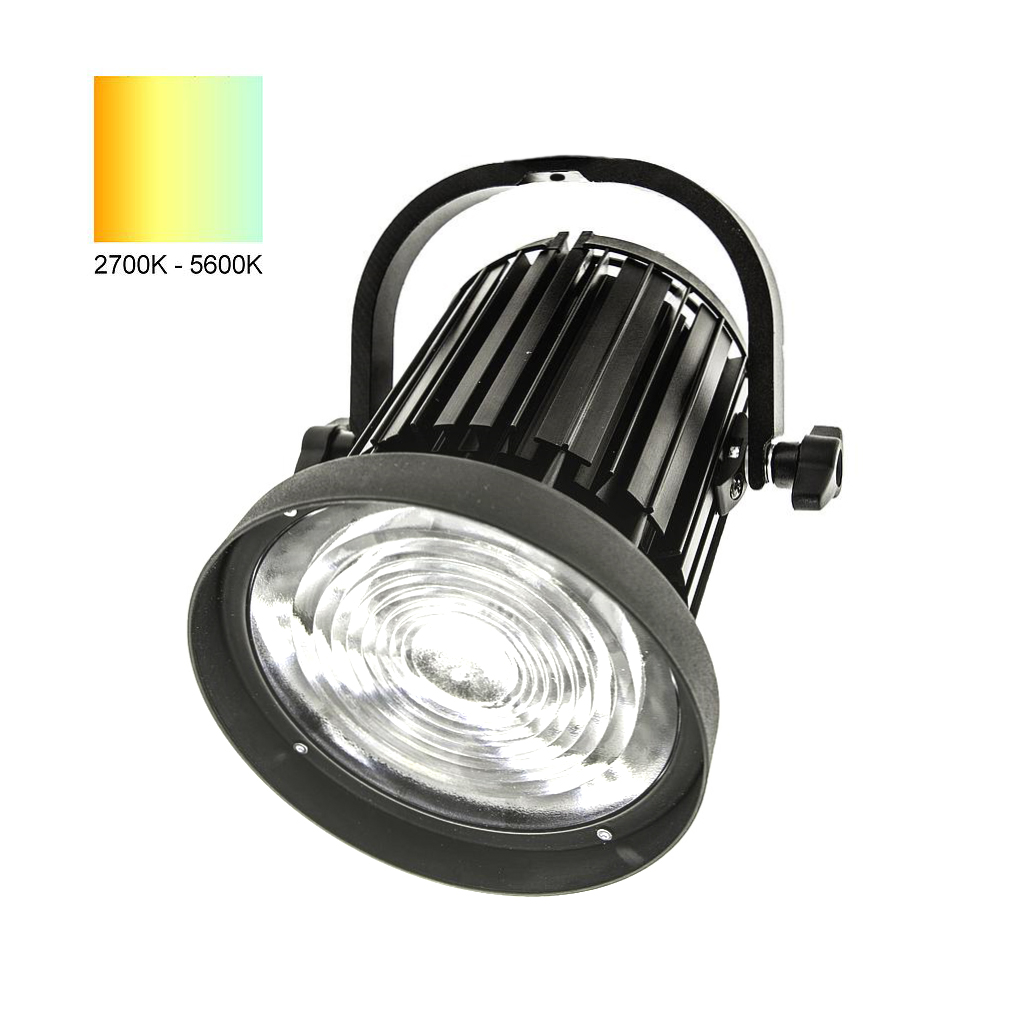 Compact Beamlight 1 Bi-Color
---
BB&S Compact Beamlight Bi-Color 2700K to 5600K (11°), Yoke, 2 meters of cable and 4 pin xlr male connector
Needs optional power options (Power options includes 4-Way Controller & Bi-Color Manual Dimmer) A Split cable(SKU#3844) is needed when used with the BB&S 4-Way Controller
---
---
Features
BB&S Lighting introduces the Compact Beamlight (CBL-1) Bi-Color! A new type of LED fixture for Broadcast, studio, film, commercial, stage and architectural lighting. With a 5.5" footprint, this versatile LED powerhouse draws just 40W yet produce up to 2700-lumen output at 97 CRI and 98 TLCI all with no color shift and it dims to 100-0.
The BB&S Compact Beamlight or CBL-1 is an LED, light weight, small form factor, beamlight that can be used individually on AC, used with the BB&S 4-Way Controller or used on a 14.4 VDC Battery. The CBL-1 draws 40 watts and delivers 2700 lumens at 97 CRI. The CBL-1 Bi-Color comes only in an 11 degree model.
The CBL-1 Bi-Color comes with an adjustable yoke and TVMP for mounting and a 6' 4-Pin XLR heavy duty low loss cable plus a 4-Pin to 3-Pin XLR splitter cable for use with the optional 4-Way Controller. Optional accessories are a 40 watt driver/dimmer with 4-Pin XLR plus a d-tap cable, a 65 watt PSU with 4-Pin XLR and locking AC cable, the BB&S 4-way controller and  8', 15' and 25' 3-Pin XLR heavy duty extension cables.
The CBL-1 Bi-Color outputs a hard-shadow rendering beam that fades from 100% at center to 50% at the edges, so it's good for mixing and overlapping with other lights while eliminating blinding glare.

Small & Cost-effective
BB&S CBL 1 Bi-Color lights are ideal for news sets, stages and architectural designs requiring consistent lighting and for specialty uses like approximating headlights or mounting up to 90'/30m overhead—without spill, glare or stray light. Each fixture offers the identical 1.5 kg/3.3-lbs weight and dimensions of (165mm/ 6,5" long, 140mm/ 5,7") allowing quick repositioning within the same grid brackets or clamps as other CBL-1's.
BB&S Proprietary Tech
BB&S' proprietary 126mm diameter collimator lens converts up to 90% of the LED output to produce a high intensity narrow beam with minimal spill. The BB&S engineers designed the Compact Beamlight to run silent due to an effective heat dissipation rear section that eliminates a cooling fan.
Specifications
POWER
Lamphead—1050 mA at 36 V, 41W maximum draw (Dual Channel 2700K/5600K)

With 4-Way Controller (4 single color heads or bicolor 2 heads) 100-270V 50/60 Hz 175W maximum draw 

With Pipeline manual dimmers: 12-14.4 V at 3.5 amps

DIMENSIONS
Length: 165mm/6.5" Diameter: 145mm/5.7"

Temperture Range
Ambient operation from -20° to 40°C/ -4° to 104° F


CBL in Action
Pictures from the real world